How to unlock icloud activacion lock iphone :The icloud lock is a security feature that Apple implemented in the operating system try to stop the problems of theft and unauthorized access to iPhones.
besides On some occasions this security measure can also a problem, for example, when you buy a second-hand iPhone and the previous owner did not remove it. You will not be able use the device with your Apple ID unless the iPhone is no longer associated with that Apple ID.
How can I unlock iCloud Activation Lock from iPhone
Apple devices have various security mechanisms to avoid annoyance if you lose them suffer a theft. You may, however, find yourself in the situation of having purchased a second-hand iPhone or iPad and now you cannot access iCloud; or that you have deleted the content your own device without having logged out of the cloud before. Do not worry! unlock icloud activation lock an iPhone 11, 11 Pro, 11 Pro Max, XS, XR, X, 8, 7, 6, 5 or 4 is possible, and then we show you what options you have.
What is the iPhone Activation Lock?
Apple incorporated iCloud Activation Lock into its devices, a tool that protects iPhone, iPad, and iPod Touch in case of loss or theft. When the user activates the "Find my iPhone" function on his phone, his Apple ID is stored on the company's servers, preventing outsiders from accessing the device, erasing or deactivating this function if they do not know the code.
This implies that you will not be able to use a second-hand device that has this function activated unless you know the iCloud credentials of its previous owner, and that you will not be able to access your phone if you have forgotten your Apple ID or password.
Generally, if you have an iCloud lock on your device, one two screens will appear when you start to configure the device:
Activation Lock: This iPhone got lost and erased. Enter the Apple ID and password that were used to set up that iPhone.
Activate iPhone: This iPhone is associated with an Apple ID (******@icloud.com). Sign in with the Apple ID that you used to set up this iPhone.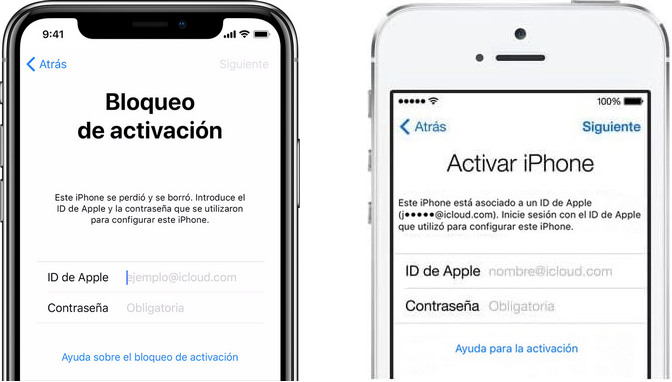 Fortunately, there are different methods or tools to achieve unlock icloud activation. Next we tell you how to unlock icloud iPhone activation.
Download software unlock icloud activation iPhone?
Best software to unlock an iPhone screen:
When you do not remember the unlock password, it is likely that the device ends up locked. In this situation the best solution is to resort to iLockBypass Thanks to this software you will be able to regain access to the device in a simple way that we explain below:
Download the iphone screen unlock software and install it on your computer.
Connect the iPhone with the USB cable, run the software and wait for it to recognize the device.
It will be recognized automatically. Click on "Unlock now" and wait for the process to complete.
With these steps the device will be updated to the latest available version of iOS and you will able to establish new unlock key.
in conclusion It is important that you keep in mind that our software makes a backup copy of your information before performing the process so you do not have to worry.